Copper and energy transition materials
Filling the copper supply gap
Copper is front and center of the energy transition. As a key part of wind turbines, batteries and solar panels, copper demand is set to double in the next 20 years.
We help our customers expand production to meet this demand safely and sustainably. We draw on expertise from our Copper Center of Excellence in Santiago, Chile, supported by our global network of mining and metals specialists, to solve our customers' challenges.
We specialize in processing plant design, mass materials handling systems, high-capacity concentrators, copper processing, and block cave developments. And we work across both greenfield and brownfield mines. We select the right technology and design to transition to underground mining to access high grade copper ore bodies.
We also help our customers to mine, process and transport other energy transition materials such as lithium, nickel and graphite. These materials are key to electrification, renewable energy, and battery storage technologies.
Statistic Cards
energy transition materials projects
lithium projects in brine concentrates
years of cross-sector experience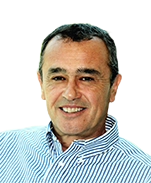 "Copper's most attractive quality is now as a new energy metal. And rich ore bodies are within reach. We help our customers find deposits, access high grade ore, process it, and supply it to industries that need energy transition materials the most."
Claudio Martinez
Vice President, Commercial